Your Louisville General Dentist Office
Comfort & Care for the Whole Family
…Because Everyone Deserves a Healthy & Happy Smile
Why Choose Smile Academy of Kentucky on Dixie?
Our staff at Smile Academy has over 30 years of dental experience. We are very passionate about our dental careers and treat all of our patients as family.  We offer a variety of days and appointment times to meet all of your dental needs.   Your smile is in great hands. 
Most people go to a general family dentist for their regular checkups or because they have a tooth ache.
Smile Academy of Kentucky on Dixie can treat all your general dental needs.  We treat patients of all ages, giving everyone the same family-style respect and care that we are known for. Regular dental care is important for your overall health. When your teeth and gums are healthy, you are warding off other potential medical disorders. We provide quality dental care in a relaxing environment.  You are unique, and so are your teeth. No more need to be nervous coming to the dentist, Smile Academy of Kentucky's goal is to make your dental visit pain-free and relaxing as possible.  
What is General Dentistry?
A general dentist is a dentist who treats the entire family from toddlers up to the elderly.  A general dentist will diagnose dental problems and either treat in the office or refer to the appropriate specialist.  Smile Academy of Kentucky on Dixie, we provide the following services:
Comprehensive exams including oral cancer screening  

Emergency Appointments

Dental Cleanings

Periodontal Therapy

Sealants

X-rays

Tooth colored Fillings

Crown and bridge

Extractions

Root Canals

Implants

Partials

Dentures

TMJ Bite Guards/ Night Guards

Bleaching
How Does Good Dental Health Impact Your Overall Health?
A healthy mouth helps keep the rest of your body healthy and in check. Most people don't understand how interconnected the mouth is with the entire body. Studies have proven that inflammation in your mouth caused by periodontal disease can lead to an increased risk of heart disease.   Poor oral health can also affect brain health.  Bacteria from an infected tooth can enter the bloodstream causing sepsis.    
When Should You Schedule an Appointment?
We recommend visiting a dentist at least once a year for an exam and oral cancer screening.  Dental problems typically do not get better on their own, and they are easier to treat when caught at an early stage. Regular checkups ensure your mouth stays healthy, so you can keep on smiling!
The experienced staff at Smile Academy of Kentucky on Dixie is here for you. If you have any questions, please give us a call.  Schedule your next appointment, and then smile. It's good to know that your dental needs are in excellent hands.
How Old Should a Child Be To Go To The Dentist?
There is no set age on when a child should see a dentist. We recommend that children be seen no later than age 3.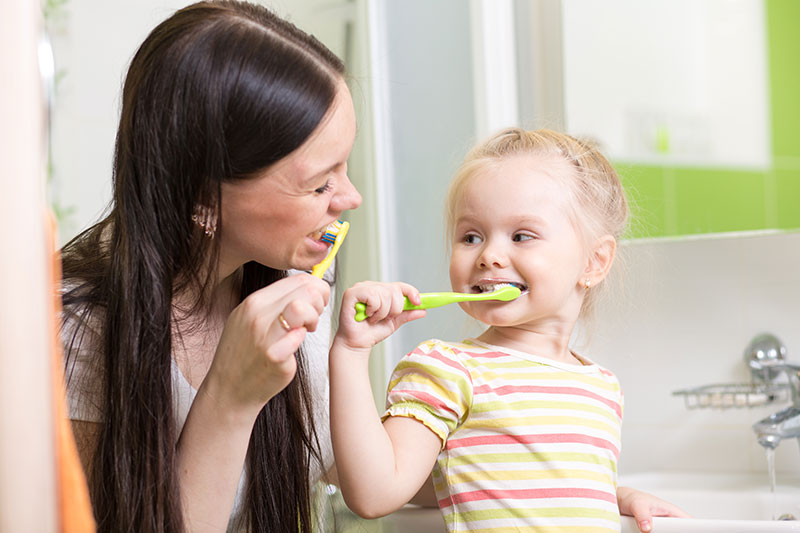 Schedule an appointment with a dentist if you notice changes in your mouth or teeth.
Are your gums bleeding, swollen, or tender? Are they sensitive to hot, cold or sweets?  Are your teeth looser than usual? Do your dentures fit differently?  These could all be signs that you need dental treatment.